"No matter how difficult life may seem,
there is always something you can do and succeed at."
   -Stephen Hawking
what is Kinannou?
KINANNOU means 'OURS' in Haitian Creole (Cap-Haitien). The
purpose behind the name KINANNOU is symbolic of how we value our customers.
Here at KINANNOU, we hold our customers to our highest regard and continuously
inspire people to be kind to one another. That's why every order will have an
inspirational message that comes with it , and these messages will be selected
from submissions provided by our coveted supporters. Positive thoughts and
genuine relationships with customers are values that define us.
"Don't ever let someone tell you that you can't do something."-will Smith
About you Customized Orders
After placing your order, someone from our staff will contact you regarding your order for more information. Please make sure to leave an email or a telephone number at check out so we can reach you. 


Important
All customized gifts are to be placed at least three weeks prior to the event date.
All customized party favors are to be placed at least five weeks prior to the event date. A fee will apply for express orders.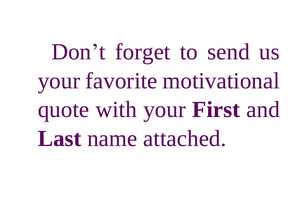 Motivational Quotes..
Motivational quotes are important for everyone. Our goal at KINANNOU is to motivate each other through our positive thoughts. Each KINANNOU bottle will have a postive message attached to it provided by our coveted supporters. We are living in times, where there is literally stress around every corner. Even with the best efforts, stress cannot be avoided. However a simple positive message can put a smile on someone's face.
Be the reason that someone smiles today!!!
This section doesn't currently include any content. Add content to this section using the sidebar.